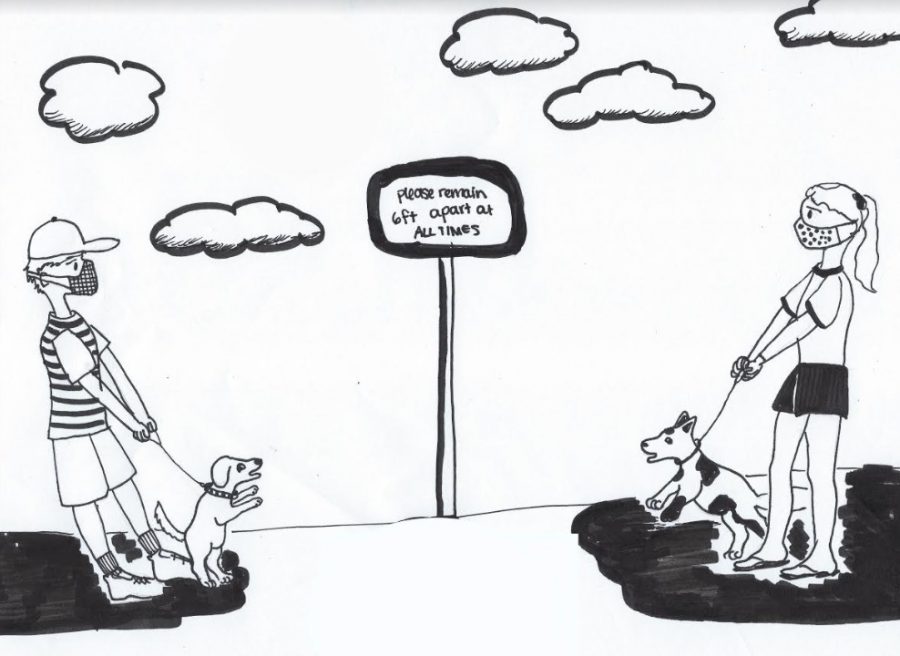 STANWICH ROAD/REMOTE SUMMER- Every storm cloud has a silver lining and the cloud of COVID-19 is certainly no different.
As lockdowns took over the lives of students, it took from kids and teens lifestyles as they knew them, in which socializing in person, participating in sports as a team, and going to school on campus was the norm. 
For nearly five months, students have struggled to cope with the event that has turned lives upside down, or worse. At first view, few would suggest that anything positive could come from such a catastrophic event that has left millions unemployed, school-less, and grieving the loss of loved ones.
Still, there are moments or notions of "positivity" during even the hardest times.
What happens when so much of what one loves is taken away? Naturally, one's appreciation for what has been lost grows. What happens when life hurls new road blocks at someone? One adapts and overcomes. What happens when one has an influx of free time? One learns to spend it wisely.
Perhaps the only virtue of the COVID-19 pandemic era is that is has strengthened many students' sense of gratitude.
"COVID has allowed me to reflect on so many aspects of life before the virus that I used to take for granted, such as spending time with large groups of friends, wandering freely through stores, and having mask-free conversations with people in public," explained Tessa Loverro, a Rising Tides founder and rising 11th grader, in an email interview. "I came to appreciate all of these things and more." 
Time away from school, loved ones, and extracurricular activities has helped students realize just how grateful we are for friends, family, and school, or even just the ability to walk on in town without wearing a mask or go to the beach without avoiding people and "staying alert."
The quarantine constraints resulted in more free time for many students. This new-found free time generated the opportunity for students to create healthy habits, find new passions, and continue working on their previous hobbies and goals. 
Before the pandemic, few people were desperate to go on a walk or a bike ride. But with quarantine trapping people at home, a simple stroll around the yard, a short bike ride, or a daily workout was refreshing in a whole new way.
"I found that working out and staying active really helped me keep my mood up," explained Savannah Shetler, rising 10th grader, in an email interview.
Also through an email interview, Carmie Zuniga, rising 10th grader, shared how she stayed happy.
"To help cope with quarantine, I found that going for bike rides and walks were great ways to stay healthy and to clear my mind," she said.
For Tessa, her "daily walks and FaceTime calls became therapeutic." During quarantine, getting outside and staying active through walks and bike rides were a daily must for many students because they helped students cope and stay happy. 
With an influx of free time that students experienced due to quarantine, many have discovered new hobbies and interests that have kept them busy and have also been able to pursue their existing hobbies. 
"I turned to my passion; music, and worked on composing and lyric writing as well as learning more about the software that I'm using," said Savannah. "I also decided to work on some passion projects. I've been teaching myself how to sew and have been doing watercoloring."
"I go out on walks often and focus on my hobby of painting as well," explained Ruby Cosgrove, rising 9th grader, in an email interview.
Other students learned to balance their free time and make healthy choices.
In an email, Chloe Caliboso, rising 9th grader said, "The beginning of quarantine hit my brother and I pretty bad. It was basically spring break so we were on vacation mode so we made a bunch of unhealthy decisions together. We baked cookies every night, we constantly bought snacks, and we did nothing but watch T.V. all day. Fortunately we changed our ways by mid April."
For busy families, quarantine has given them the rare chance to spend daily time together and to bond with each other.
"I had opportunities to bond with my family through watching movies, playing board games, and having family dinners. Although these things seem small and simple, they are special and unfamiliar to my usually very busy family," said Ruby.
Many students came to see how they rely on technology in their day-to-day lives to help them stay happy and connected- perhaps even preferring a digital contact to a human one. Before the pandemic, FaceTime was, to most students, just a convenient way of talking to friends and seeing their faces. When students were separated from their friends, their appreciation and need for a means of communication through FaceTime, Zoom, and Google Meets grew immensely.  "Virtual face-to-face" communication became more than just a convenience or even an excuse; it became a lifeline, an essential tool for staying connected.
"I FaceTimed with my friends a lot to connect with them even though I can't see them in person," explained Savannah Shetler in an email interview.
Other students relaxed by listening to music. "I listened to music almost every day because it keeps me happy and calm," said Carmie.
Additionally, being isolated has allowed students to reflect on themselves and how they spend their time. For students who pursue year-round athletics, dance, or other activities that keep them busy, quarantine has deepened their appreciation for these activities, allowed them to focus on other important aspects of life, and has even led them to discover more opportunities.
"I've mostly missed sports and the ease of going to practice," Carmie reflected. "One thing that I have done over this summer was lifeguarding at a local pool. This helped me have a sense of accomplishment each day (which was hard to come by otherwise), a social life in a socially distant way, and it kept me busy."
Even with a few months of quarantine chaos behind us, and an uncertain future ahead, GCDS students have adapted and worked hard to find ways to stay happy and take advantage of quarantine, and despite what has been lost, to continue to be grateful for what we do have.
Violet McCann is a rising 9th Grader who enjoys art and writing.  This article was written for the summer Journalism Lab practicum.