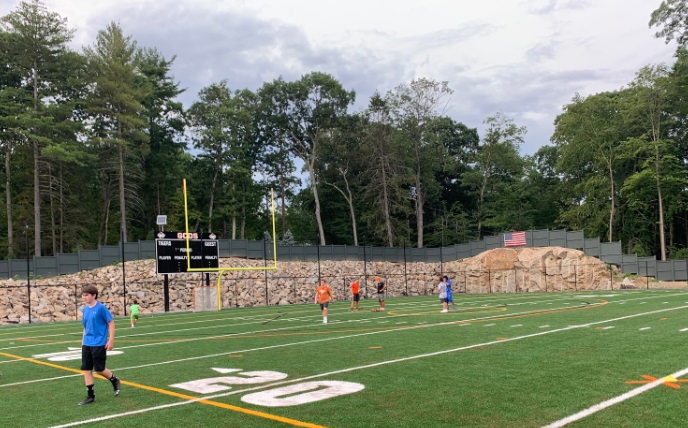 Leo Corsano
STANWICH ROAD/REMOTE SUMMER- A recent message from our sports league wasn't the news people may have wanted to hear.  Last week, the FAA decided to cancel its season.
"It is with a heavy heart that we share that Fairchester Athletic Association conference competition for fall sports has been canceled for 2020," the statement said. "This includes FAA regular season and tournament championships." 
The league was clear that world events shaped their decisions and limited their choices.  "In light of the COVID-19 pandemic and the differing return to school plans and academic models for our member schools," there was no other way to go.
However, sports may go on in a different way among schools who make their own arrangements.
"Member schools have been meeting to discuss the ability to offer a safe and high quality athletic season, working to create opportunities for meaningful team experiences within the context of the guidelines provided by the States of Connecticut and New York. The decision to cancel conference competition does not preclude individual institutions from scheduling interscholastic opportunities between and among schools, if able," continued the FAA statement.
The fall season is very important to the many athletes and students for a jump start of the academic year outside of the classroom among students hoping to compete. Sports like football, soccer, cross country, and rowing all compete in the fall and for most Seniors, the fall is the last chance to play their beloved sport competitively.
Tim Helstein, GCDS Athletic Director, recognizes the stakes and suggested that multiple parties would be part of all decisions.
"The GCDS Athletic Department is still committed to giving every student-athlete the same, if not a better, experience than if the fall season wasn't cancelled," he said in an email interview after the announcement. "Each team is able to focus on the skill development and fine tuning that is required when competing at a high level of play."
And games and scores still matter, according to Mr. Helstein.
"The announcement of the season being cancelled does not mean there won't be any interscholastic competitions. It means there will not be an official season or post season in the fall, but if guidelines allow, and we as an institution feel it is safe, then competitions against the other independent schools in the area are very likely to be scheduled and played by our various fall teams," he said.
Some of the restrictions won't be up to any one school.
"This would be a league, state, and possibly federal decision," said Mr. Helstein in a separate email interview prior to the FAA statement.  GCDS can, in light of the FAA news, make choices with peer-schools while being mindful of the health concerns.  "We still need to follow what Connecticut and even Federal guidelines have outlined."
Coaches are proceeding as though the season will happen and for many sports pre-season practices started this week.
When asked what his plans were to prepare for the season, GCDS Head football coach, James Gussis said there were more options than one might think.
"We're obviously going to follow the state and league guidelines and do as much as we can within that," he said at football practice. "There's plenty that we can do from a non-contact basis with passing as well as our defensive coverages and if we can continue to implement systems, regardless of what happens, we'll be moving forward in the right direction."
Athletes are optimistic about their seasons still happening.
Cross country runner and new GCDS rising sophomore Al Nickerson said social distancing may be the name of the game for his sport.
"I think it could definitely work since there is no physical contact with the exception of the starting line," he said. "Even then you could always do staggered racing where a small group starts, waits for some time, then another group sets off."
For now, the plan is for the Tigers to compete in all sports this season but with the uncertainty in a world of COVID-19, that could change instantly.  But the intention to compete is there, according to Mr. Helstein.
"During a time when we may feel like plans are getting cancelled, and opportunities seem to be taken away, I think our student-athletes have a great deal to look forward to," he said. "Our coaches and staff have been eagerly awaiting the fall season to begin, and we are committed to give our student-athletes a season to remember."
Leo Corsano is a rising sophomore who likes rowing, fishing, and the New England Patriots.  This article was written for the summer Journalism Lab practicum.