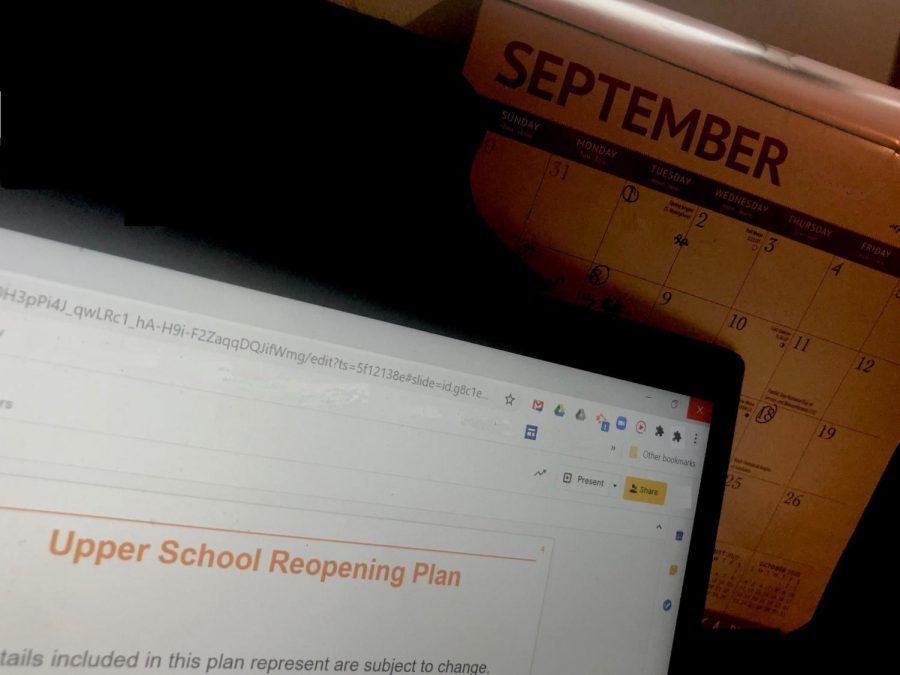 Staff
STANWICH ROAD/REMOTE SUMMER- There are still many questions swirling this summer, even as August is underway – and despite the long season it seems schools have little time to weigh major options. 
Students are keen on returning, while also understanding how important health concerns are.  School officials now have plans and decisions to make.
Concerns about mental health and physical health regarding the upcoming school year are on everyone's mind: from students to teachers to parents who need to go to work this fall.
These are all risks and rewards that the Centers for Disease Control (CDC) is considering in issuing its recommendations during in this unprecedented time of Covid-19 – one that started affecting schools worldwide last March and is now influencing decisions for September. 
Recently at GCDS meetings have taken place to address this issue and find the best course of action for students.  Head of School Adam Rohdie, Heads of Divisions including Dr. Chris Winters in the Upper School and others have convened experts, parents, and other groups with views on what should happen next.
Generally speaking, experts currently believe that, in particular, younger children and those with special needs, should be back in school for the fall if protocols related to distancing and other measures can be maintained. Middle and and high school students seemingly have more "remote" and individual options, though the social component of school weighs perhaps more heavily on them.  Kids need to be around kids is a thought that is driving a lot of the planning.
At GCDS, all ideas are on the table as August arrives.  Mr. Rohdie has spelled out plans as of July for the upcoming school year that still keeps state guidelines at the forefront.  He did suggest that logistical decisions will be vital.
"We are going to have to work hard to space out those interactions and maintain our separation," Mr. Rohdie said in an email interview.  He explained how all school activities will most likely take place although with social distancing.  An upgraded ventilation system is a big new addition in our school, though there are other variables in play.
Currently, if schools return in the fall there will be different guidelines put in place for the safety of students and faculty. Students would be required to wear masks during school and physical contact would have to be limited for both students and faculty- a particular challenge for a project-based Upper School which thrives on small group interaction and constant collaboration. 
What the school year will look like exactly is still not definite and there are ideas though none are concrete.
Caitlin Rivers, an epidemiologist at Johns Hopkins University, feels that "it should be a priority for districts to reopen for in-person learning, especially for younger ages," in a quote from the New York Times.
Experts include individuals from both the educational side of the issue and the scientific side; from mental health professionals to engineers. Whether schools should be back is less of an issue – everyone wants that- but how it happens is the looming dilemma, especially as the weather gets colder.
"The flu season is worrisome and while we have developed protocols for the opening of school we still have many to still work on — we are now starting to plan for the winter months"," Mr. Rohdie said.
"Extra-curriculars" and clubs will hopefully continue this fall, just socially distanced.
"We know things will be different compared to a year ago, and that things will change along the way; part of the planning involves being ready to make adjustments" said Ms. Vicki Craver, President of the GCDS Board of Trustees and Country Day parent. 
Students are understandable excited about returning to campus after what will be six months away.  
"I am very excited to be back in school as it's been since March since I've been in the building," said Leo Corsano, rising sophomore, when expressing his feelings regarding reopening.
"I'm excited to do something half -normal even if it means wearing a mask at school," said Eliza Craver who is starting 7th grade this fall.
They carry excitement while many adults who have elderly parents at home or kids of their own to teach depending on the plans are more concerned about safety and planning.  But kids approach it hopefully and practically.
"I think it will work for a while, until it doesn't, and then we'll go back to online school," stated Halsey Robinson, rising junior.
Georgia Mann, another rising junior, echos the nervousness but excitement about being back on campus.
"I know GCDS has been working really hard all summer to implement safety precautions, and I am very grateful for that," said Georgia.  "I am trying to remain optimistic as we dive into this new and unclear year."
"I think that it is really important for the GCDS community to have in-person interactions with each other to inspire one another and remind us that school is a positive environment," said Ainsley Craver, rising sophomore in an email interview.  Ainsley suggested a great hope that in-person instruction will be inspiring and positive to offset the inconveniences. 
Despite the uncertainty the educational figures in our country are doing their best to find the best plan for the future and the safest way to carry out school.
Al Nickerson is a rising Sophomore who enjoys running, ultimate frisbee, and challenging himself.  This article was written for the summer Journalism Lab practicum.