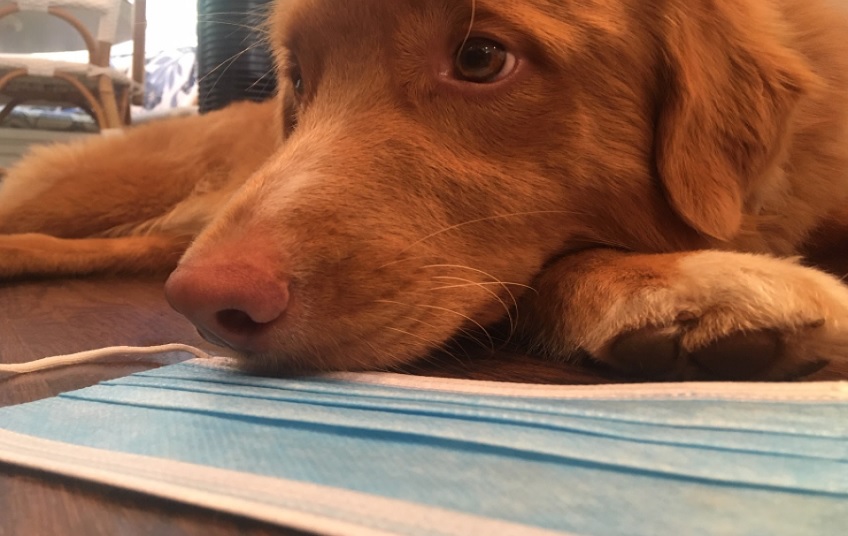 Ainsley Carella
STANWICH ROAD/REMOTE SUMMER- Friendship is needed more than ever during unprecedented times – and it comes as no surprise that "man's best friend" fits the bill. 
Many Americans have been facing a more isolated lifestyle since Mid-March due to COVID-19, and dog adoptions have increased as people looked to our four legged friends for comfort and companionship!
Adopt-A-Dog, a dog adoption and rescue organization located in NY, said that they have been busy.
"Interest and dog adoption has increased substantially from before the pandemic to during the pandemic," Samara Enders, Development and Marketing Coordinator of Adopt-A-Dog, said in an email interview.
"Statistics that demonstrate this point are a comparison of our numbers from the previous two years," added Adopt-A-Dog.
A slightly different situation has taken place at the Connecticut Humane Society. Susan Wollschlager, Marketing and Communications Manager of the CT Humane Society, an animal welfare organization, said by email. 
"Inquiries for dogs (and all other pets) have remained steady through Covid. After receiving days, weeks or months of medical and behavioral care, pets were only looking for new families for an average of about 3 days even before Covid. The interest in adoption remained just as strong when the pandemic hit."
It is a bonus that the pandemic hasn't negatively affected dog adoptions from both of those shelters- however, COVID-19 hasn't stopped dogs being surrendered.
"There has been an increase in dog surrenders in this area due to the impacts of COVID-19," said Adopt-A-Dog in an email. "Adopt-A-Dog is a limited admission shelter, meaning we have a capacity of dogs we can care for. Once we hit this capacity we can not take in more dogs, however we give resources to families in need to help them rehome their pet. Each dog at the shelter is given individualized care focused on what they need to make them as adoptable as possible."
But which age group of dogs were most frequently adopted from these animal shelters during these past few months?
The Connecticut Humane Society said by email interview, "CHS had mostly young adult dogs the past few months, so that was the most common age adopted. However, CHS sees interest in all ages. Puppies of course always have a lot of interest, but many people seek out senior dogs because they want to give back to a dog in its golden years and make those the best of its life."
Adopt-A-Dog saw a similar trend. 
"The age group of dogs at Adopt-A-Dog that have been adopted have been young adult/middle aged dogs."
Applications to foster, or keep a dog temporarily until the dog finds a real home, have increased as well during COVID-19. 
The Connecticut Humane Society said, "CHS worked with current volunteers for foster homes when Covid restrictions began, and was not taking on new volunteers due to Covid safeguards. But offers from the public to foster came in every day for the first two months of restrictions."
Adopt-A-Dog stated, "We have seen an increase in foster applications from before the pandemic started to now."
It's significant that people have been moved so much to offer help to animal shelters in the midst of a pandemic.
The increase of dog adoption isn't just limited to this animal shelter, however. Ellie Stark, a rising 9th grader at GCDS, recently got a second dog, Ruby, from a breeder.
She said in an email interview, "Yes, we decided to get a second dog during COVID-19 because with everyone at home we thought it would be easier to train the puppy."
Ellie also said by email, "With Ruby we have been able to spend more time with her due to the quarantine. I believe that it is easier to train her and give her enough attention during COVID-19. With [older dog] Cali we were still able to give her attention but it was harder. My family was rushing around to get to work, sports, and school so we had to create times to be with Cali." 
For those who already have a canine friend, now is a great opportunity to play with them more and go on walks, and for those interested in adopting a dog from an animal shelter, the protocol is now a little different than usual.
"Adopt-A-Dog is currently closed to the public, however we are doing foster and adoption appointments by scheduled appointments only," said the organization in the email interview.
The Connecticut Humane society said in an email, "CHS is currently doing pet adoptions, with as much of the process via phone or internet as possible. There are now online applications for pets, and adoption counselors review each one. They then perform an adoption counseling session via phone or video chat with potential adopters who seem like the best match for a pet. If it seems the pet and adopter would be a good fit, the adopter then gets an appointment to come in to meet the pet and see if they want to make the adoption official and take the pet home."
Samara Enders of Adopt-A-Dog said, "Fostering or adopting during this unprecedented time is extremely important."
It's commonly known that friendship and companionship hold new importance through the pandemic, and relying on our four-legged canine comrades certainly bring them both it into our lives.
One thing's for sure: the more time at home for us, the more attention we can give to these deserving dogs!
Ainsley Carella is a rising 9th Grader who likes English class, soccer, and animals.  This article was written for the summer Journalism Lab practicum.