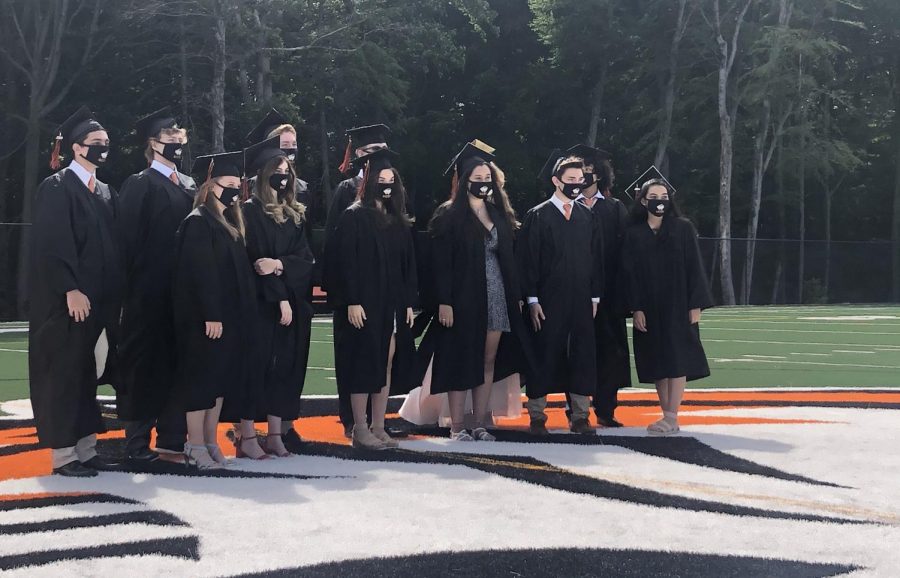 STANWICH ROAD- GCDS and Stanwich traditions rang true at the inaugural Senior graduation ceremony of the Upper School, where for the first time since March, the Covid-19 pandemic seemed to take a backseat to an in-person celebration.
Masks, distanced seating, switched microphones, and elbow bumps were certainly present as the 12 students who made up the Class of 2020 received their diplomas, tossed their caps, and officially completed about as unique a journey through high school as one could imagine.
The on again/off again I.B., one school ending, one school starting, a Costa Rican zipline, local news stories of them as one of the last groups through Notre Dame cathedral before they witnessed the 2019 fire during a school trip, new school-mates outnumbering them 10:1, and finally a global pandemic leading to remote learning were collectively unique experiences for the "sturdy dozen" – this close-knit group – culminating in the warm but breezy commencement ceremony.  The event also included many familiar traditions from past GCDS 9th Grade and Stanwich School graduations, grounding the event in comfort and joy.
It was an in-person graduation very-much in doubt six weeks ago.  But despite the health crisis, the Seniors never considered cancelling their graduation or moving it online as long as they had a choice.
"We discussed this with them and gave them a chance to talk about what they would want," said Headmaster Adam Rohdie.  "Overwhelmingly, they wanted to do it this way."
Positive thinking, resilience, and enthusiasm were hallmarks of the class, according to every speaker, which included the President of the Board of Trustees Vicki Craver, Head of the Upper School Dr. Chris Winters, and Upper School math teacher, selected by the Seniors, Steve Feder.
"Maintaining your flexibility and resilience will go a long way to ensuring a successful future. Enjoying the ride, living in the moment and appreciating the small things are so important to happiness in the COVID world," said Mr. Feder to the socially distanced crowd of about 50.
Dylan McCormick received the Headmaster's Award, which is decided by faculty vote and is given to the student "who best embodies the core values listed in the school's Mission Statement."
"He has a voice that not only resonates among his peers, but holds great weight with the faculty and the administration," said Mr. Rohdie in presenting the award.  "He cares about the success of his classmates, perhaps even more than his own…he embraced everyone, from new freshmen to an old Head of School."
Dylan was also the class's choice to give remarks.
"Although our Senior year did not end in the way we expected," he said, "we still have so much to be thankful for and to be proud of." 
Tyler Brown was one of two recipients of the Sulger Fellowship Award which recognizes a Senior "who continually demonstrates a special generosity of spirit to other students in the community."  He believes that the pandemic helped unite their class.
"Honestly, I think it made our class closer as a whole," Tyler said in an interview at graduation.  "We really spent a lot more time together than maybe we would have otherwise, whether it was on Zoom calls or just texting." 
Alex Short also received the Sulger Fellowship Award.  Alex was a leader in social justice causes and was roundly respected among Seniors and the entire student body and gave one of the more memorable Tiger Talks, instilling that as a lasting GCDS tradition after just one year as a high school.
The Class of 2020 represented not only the innovation of the new high school but also years of Stanwich education. The graduation was inspired by "Spartan hearts, and Tiger Pride,"  Dr. Winters noted in his address.  He cited graduate Cary Rivera's Chronicle article as the best way to remember this unique year and high school period and suggested that they take their character into the world.
"I look out at you and recall your contributions to our school," said Dr. Winters.  "[You are] young people who have beliefs and values – ones you're willing to fight for.  And who have the character to do so by bringing people together…helping us see what is good in each of us."
At the end of the ceremony a 150-year-old bell was rung three times, a Stanwich tradition that GCDS plans to continue.  The bell was originally part of the Cos Cob School on the current Upper School property on Stanwich Road.  The Dommerich Family, who built on the space in the early 1900's, donated the bell to The Stanwich School in 2014 and  it was sounded every year at Stanwich's six graduations.  This year it became a GCDS tradition at the Tigers' 93rd Commencement, including the 92 without a 12th grade year.
While this was almost year 93 without a 12th grade in-person graduation, the Seniors were having none of it.  And it paid off as state health regulations loosened since the original May 29 date, and the school organized a well-choreographed event with the Star-Spangled Banner, roses, caps and gowns, processional music, a stage, and all the trappings a graduate can expect.
The Seniors themselves are confident that their mixed Stanwich-GCDS education brought them far and will bring them even further in the future.  Students are off to universities near and far: from Wesleyan and Hamilton and UConn to Ohio State, Drew, Brown, and Carnegie Mellon.
Alex Short is certain the road has been paved, literally and figuratively, for future students.
"I'm really proud of my class and I think that we all are great examples of what the GCDS values are; what Tiger Pride is."
Finn Hopmann is a rising junior who will begin the I.B. program at UWC Atlantic in Wales in the fall.
The story was reported on-location.