"Vigil for Unity" Punctuates Week of Outrage, Protest after Race & Police Misconduct Collide Again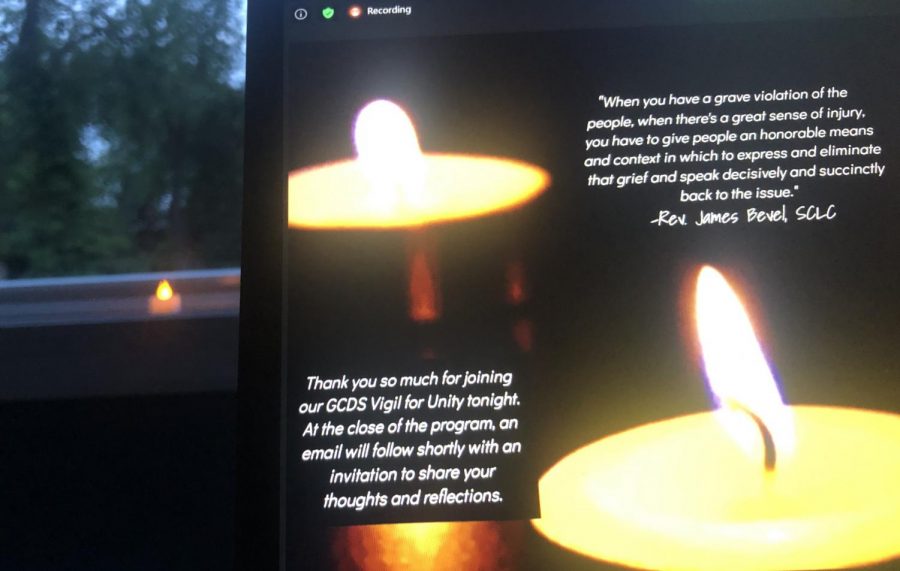 Sarafia Mughwai ('21)
June 4, 2020
STANWICH ROAD/REMOTE- The GCDS community gathered virtually last night, where the backdrop of Covid-19 forcing the vigil onto Zoom seemed like a minor story up against the news of protests due to racially-motivated violence across America.
Adam Rohdie, Headmaster, greeted the community for the "Vigil for Unity."  "It will take courage and resolve to face the challenges ahead and move toward healing," he said.
Students, faculty and others in the community witnessed testimonials and songs from many across divisions.  According to Mr. Rohdie, 385 devices logged on at the peak of the event, which means the actual participants may have been twice as many or more.
"It's a burden to watch someone lose their life…it's a burden to watch someone beg over and over for air," recited Devin Kwarula, sophomore, as one of several teen speakers.
It was suggested that together there could be change, but courage was called for – this was a theme from many who spoke.
"Compassionately call it out," said Chrissy Colon-Bradt, Director of Diversity, Equity & Inclusion, referring to injustice or forms of insensitivity, small or large.  People can ask good questions and communicate when they see injustice.  "We will keep leaning into difficult conversations," she said.
The fear, anger, and confusion by youth, faculty, neighbors and communities here and in all 50 states suggest a major social moment which was sparked by the death of George Floyd, a 46 year old in Minneapolis.  
"We had great conversations and the students had great questions," said Kevin Thompson, Upper Elementary school teacher about his  4th grade zoom classes recently.  "The most important part of this conversation is that students are still having them."
"Mr. Floyd could have been Mr. T," Mr. Thompson said his students may have realized, his voice breaking up slightly.
The recent killing and alleged murder of Mr. Floyd and the ensuing protests and riots across the country became the dominant story since late May.   A string of highly publicized killings of unarmed black people has boiled over into protests and violence. 
Security camera footage from the area shows Mr. Floyd led outside by the police, handcuffed, and subsequently assaulting Mr. Floyd once he had been brought into the police vehicle after struggling with officers. From this point, the footage shows escalation to the murder that has been broadcast worldwide.  Officer Derek Chauvin lowered his knee onto Floyd's neck, with three other officers directly or indirectly involved, and proceeded to hold it there for nearly nine minutes.
Video evidence shows not only bystanders asking the officers to stop, but also Mr. Floyd repeating "I can't breathe," pleading with the officers.
The New York Times reported that the voice of one officer was evident, asking if they should roll him over, and Chauvin responding that they should "keep him where [they] got him."  
All four officers have been charged: three for aiding and abetting murder, and Officer Chauvin for 2nd degree homicide.
This death, in conjunction with the allegedly racially-motivated murder of Ahmaud Arbery in Atlanta as well as other cases from Breonna Taylor in Kentucky to incidents in California and New York have inspired the current protests, vigils, and anger.  
Protests began in Minneapolis and quickly radiated to over 75 cities nationwide.  
Shortly after the protesting began, rioting, looting, and destruction of property also took place in many cities.  Well documented cases of small businesses which had been closed for the Covid-19 pandemic and were now targets of looters continue to be told by a variety of media outlets.  According to a broad range of reporting, there is debate over the causes, contextualization, and provocateurs of the looting.
Social media, both an organizing database and a petri dish of bad information, has been vital to the protests and reaction.  Everyone from Antifa to white supremacists have been accused of inciting the violence and provoking the looting, according to the New York Times.  
Protests of the past have been documented by members of the media, who only had to flash their press I.D. to be spared from arrest.  In the current protests, a CNN reporter was arrested by police on air while reporting, leading to an apology by Minnesota Governor Tim Walz.  In a separate incident, two officers were fired after college students in Atlanta were pulled over, removed from their car, assaulted, and arrested.
Within the last week, there have been protests against racially-motivated police violence in London, Berlin, Paris, Australia, and Tokyo. 
According to international and domestic media reports, the world is reeling from an overwhelming news cycle, fear of protests escalating to an unsafe level, and businesses being destroyed or looted by various parties. 
---
Sarafia Mughwai is a rising GCDS senior who enjoys the Humanities and global research, participated in the GCDS musical and the GCDS Dance Company "Ambush." She is a student leader of SHIFT, the US diversity club, and SOCA, the Students of Color Association and she plans to research and write more about current events along with social, political and economic events in our time.