"Teamwork" is Key: Q & A with Front-line Health Care Worker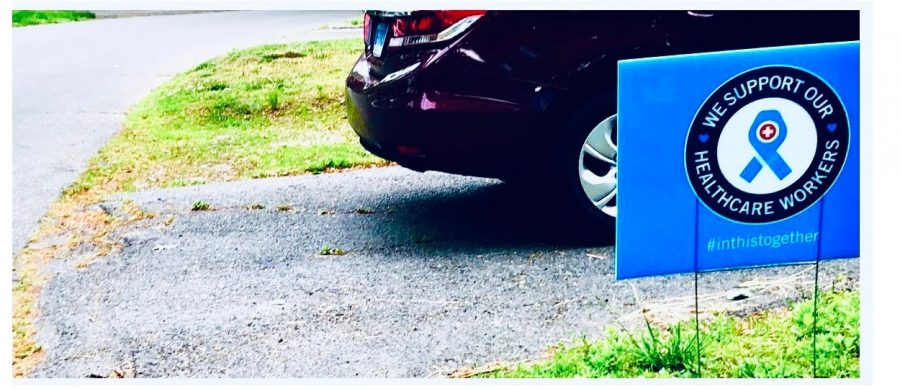 Jackson Castelli ('22)
May 25, 2020
STANWICH ROAD/REMOTE- Pia Johnson has worked as a nurse for 23 years and is currently employed at a hospital in New York City.
Over the past three months the city became the American epicenter of the coronavirus pandemic.  Ms. Johnson's world completely changed as she and her co-workers deal with the stress of caring for COVID-19 patients daily while also ensuring her family's safety at home.
This is her story, and it's the story of many.
Q: How has the Coronavirus impacted your job over the last 3 months?
The patients just kept coming and coming each sicker than the next and we were at our maximum capacity at the hospital. My job became more demanding. We had to work together as a team to help support the needs of these patients, hospital and NYC. The biggest change in nursing was having to wear the PPE (personal protective equipment)  at all times; making sure I was putting it on and taking it off correctly so that I could keep myself safe and that I would not bring this virus home to my family. Just working under these circumstances was exhausting both physically and mentally. As a nurse I was lucky just to be able to continue working. I was able to help care for the critically ill infected patients during this pandemic. The demand for nurses is high.
Q: Have you personally had to treat any patients with corona? If so, how was treating them different from treating other ill patients?
I continue to work as a front line ICU nurse. I spend 12 hours a day going in and out of patients' rooms. I was scared and found myself taking time to take a deep breath before entering into the virus' world multiple times throughout the day praying I would not get sick or bring this virus home to my family. The patients I treated were very sick and most, if not all, were on ventilators (breathing machines) so they couldn't communicate or express their needs; I became their eyes and ears. There was no family with them so I spoke to them continuously with words of encouragement and support.  On the flip side, there were those too sick to recover who I would  hold  their hand a little tighter as they were dying.
Q: How has the corona virus changed your personal / family life?
The Coronavirus  brought my  family together. We found ourselves having a lot of time to be with one another as life was put on hold. I realized how much the world was honoring the front line workers like myself. The generosity of people to offer help, support, cheer, feed or donate supplies was endless. It showed us that we were not doing it all alone that we had a country, city, town or village behind us giving us the strength to continue standing on the front line each and everyday to help those who needed it the most.
Q: What has been your most memorable moment of this pandemic for you?
My most memorable moment was watching one of our very first COVID positive patients who was just 4 years older than my daughter go home to his parents after being with us for over a month. The clap outs for each and every patient discharged from our unit makes me cry every time.
Q: Are there any words of wisdom or inspiration that you would like to share with the students of GCDS?
My words of wisdom for this pandemic would have to do with teamwork. I would have to say that being surrounded by amazing people whether you were the doctor, nurse, housekeeper , pharmacist etc and everyone working together for one goal of getting these people the best care we could give them helped me work through the highs and lows of this pandemic.