"Until We Meet Again": First GCDS Student Gov President Bids Farewell [transcript]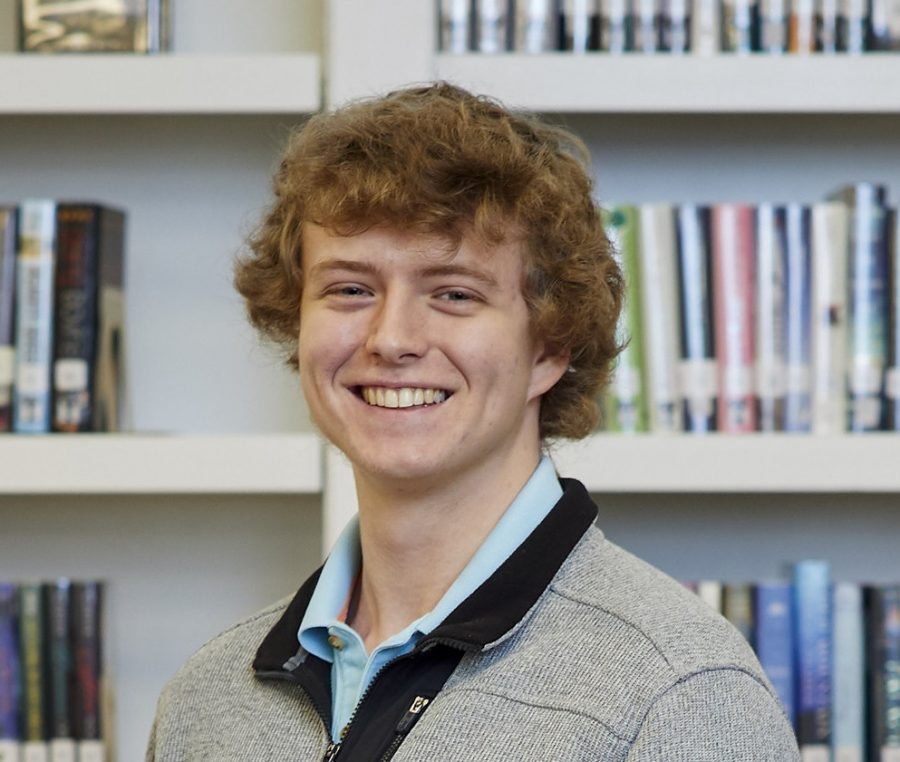 Dylan McCormick ('20)
May 24, 2020
STANWICH ROAD/REMOTE- Graduating Senior Dylan McCormick, the first Student Government President of GCDS US, delivered his farewell address to the student body through zoom on Tuesday, May 26, 2020.  The following text is a transcript of his remarks, given through a final Town Hall Zoom meeting:
To the GCDS Upper School Community:
Hi everyone. Although I'm obviously disappointed that we can't be together in person for our final town hall meeting of the school year, I'm grateful to have the opportunity to address you remotely one last time as student body president, and to tell you what an absolute honor it's been to represent you. I'm so proud of everything that we've accomplished together during the first year of our new high school, and I'm especially proud of how we've risen to meet the challenges of remote learning during these unprecedented times.
With my parting words, I'd like to take a moment, not to dwell on the negatives of our current situation, but rather to look back and reflect on the great memories we've shared, revel in our community's perseverance, and express my optimism for the future.
We've had an amazing first year at Greenwich Country Day High School, and it's not just because we've been fortunate enough to have access to resources that other schools only dream about. Those things help, of course, and I know that none of us take them for granted, but I believe that ultimately, we've been successful because we've focused on what really matters, and that's the character of our community.  We've established a solid foundation built on integrity, responsibility, and respect for others at its core.
Tiger Pride is alive and thriving at our new school, and it plays out every day in the hallways and classrooms and basketball courts and playing fields and rehearsal rooms and now even in our zoom meetings. And we've shared our generosity of spirit with others. We've held community toy drives and food drives. We've implemented conservation and sustainability initiatives. We've done fundraisers for good causes. In short, we've shown empathy and kindness to others. That's what distinguishes our community and that's what I'm especially proud of. We do more than just tout our values – we live and act upon them every single day.
As you reflect on those accomplishments, I also hope you remember the joy we've all felt just being together, starting with day one of orientation and homecoming out on the back field – the laughs we've shared, the smiles we've exchanged, the pride we've felt in each other's successes and the difficult times when we've faced challenges and had each other's backs. Yes – we are ending the school year in separate spaces, but we have and will continue to have a connection – and that will carry us through until we can all be together again. We will continue to be brave, to be resilient, and to be there for our friends, peers and coworkers because in one short year, that's the kind of high school we've become. We're a family and we support each other through thick and thin.
Most importantly, I want to thank all of the teachers, coaches, staff, parents and families that have encouraged and supported our efforts. You are our role models, and we appreciate you more than we can say.
I'd especially like to thank you, my fellow students. Each and every one of you have contributed to the success of our new high school and each and every one of you has been my friend. It's been an honor to learn and grow with such an amazing group of people.
Know that I will miss you and can't wait to see what you go on to accomplish. If you build on what we've started – if you continue to be the best version of yourselves and join forces – you will be unstoppable –  and the future of GCDS high school will be very, very bright indeed.
Congratulations Upper School – and, until we meet again –  Go Tigers!
-end-