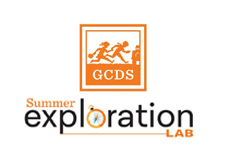 STANWICH ROAD/REMOTE – No camp? No problem! GCDS is launching an alternative and the possibilities are exciting!
Summer Exploration Lab 2020 will be opening this summer with offerings from writing to math to projects that engage kids from grades N-12.  Maybe the students will explore interests they didn't even know they have.
"Our community is amazing, so what excites me most about all of this is that it will continue to bring members of the community together to engage in fascinating shared experiences throughout the summer," said Matt Dandola, middle school teacher and Co-Director for Module Design & Pedagogy.
Mr. Dandola with Laura Brantley serving as Co-Director for Administrative Operations will oversee the offerings, registration and execution of the exciting summer courses for the kids of GCDS.
This summer will be different from many others with many plans, trips, and camps being cancelled.  The destruction of the norm has resulted in an explosion of creativity: many teachers across divisions are hatching ideas to set a fun summer for the students. 
The Exploration Labs will be offered in two 2-week sessions: July 6-17 and July 20-31.
Still there is the tension of "school" in the summer – but that's not the goal.  Yes some skills will be reviewed, but in a fresh "summer-fun" way.
"Our hope is that we will be able to strike that perfect balance," Mr. Dandola explained. "Offering lab-type courses that will afford participants the chance to explore something new and exciting that may not be in the year-long curriculum, alongside courses that will allow students to master some skills that will help in their regular academic studies."
Composing original music, painting masterpeices, and creating out-of-this-world ideas for GCDS Shark Tank are just some of concepts being offered.  And no, this isn't summer school.
"Our amazing faculty are designing unique summer experiences that will feel significantly different from the remote learning we've been engaged in for the last nine weeks."
Registration is now open.
Camille Jordan is a rising junior who enjoys dance and acting. She is excited to contribute to the new and upcoming Chronicle.