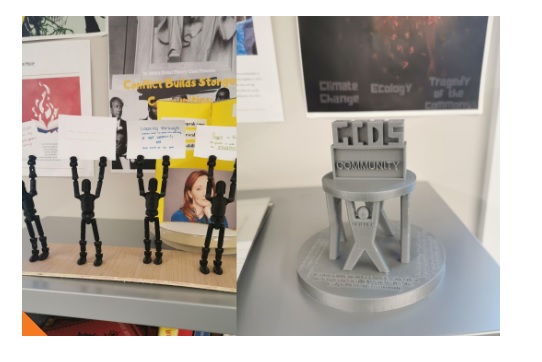 Makerspace photo
STANWICH ROAD/REMOTE – The makerspace is a hallmark of the new building on Stanwich Road.  It's also a place of creativity and sparks.
Henrique Monnerat's first impression is that there is much care in every corner in GCDS. He can still recall that he was amazed by the kindness and thoughtfulness that teachers and administrators expressed for their students and their work.
"I was also impressed by the school's willingness to invest in progressive education programs to better prepare the next generations," he said in an email interview.  All of this has become his motivation to work kindly and creatively. 
Mr. Monnerat joined the GCDS US community in January 2020 as a makerspace teacher.  He graduated having studied Industrial Design at the HfG Offenbach School of Arts and Design in Germany and then he worked as an industrial designer for more than ten years.  
As an industrial designer, Mr. Monnerat engaged in the development of various products, from kitchen appliances and power tools to food packaging and sports shoes. While designing new products, he regularly worked with engineers to make sure that his ideas of new products were feasible with current technology and viable from an economic standpoint. He is always looking for a balance between new design and reality.
A speech he gave in a museum changed his life path. A friend of Mr. Monnerat's told him that he could be a great teacher and invited him to lecture at the Catholic University of Rio de Janeiro. That invitation turned into six years of teaching product design at the university level. As time passed by, he started to be fascinated by education. Mr. Monnerat volunteered his time to work on education programs that brought Fab Labs and Maker Spaces to public schools there. 
"I like to think that my experience designing real-world products contributes greatly to my ability to teach kids about how they can use design and engineering to invent their own lives."
After spending years in Brazil, Mr. Monnerat came to GCDS and started working in 2017.  His first task was to help the technology team with the construction of the Upper Elementary Maker Space and later implementation the of Maker Program for grades 3-5.  He loves using his educational and engineering experiences to help students realize their ideas and develop their interests. 
"I love to inspire students to think more creatively about their projects and to show technologies and tools that can help them build things."
Ben Shi is a rising junior who comes from China and has studied in the U.S. for 3 years. He loves to play basketball and watching movies.