Front-line Workers Adjust Work, Assume Risks in All Communities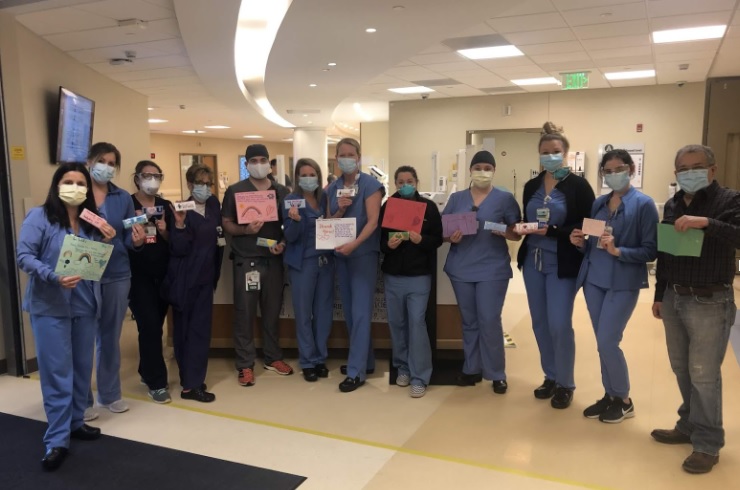 Coco Motoyoshi ('22)
May 25, 2020
STANWICH ROAD/REMOTE – Jaime Urbina prepared for a long time for his profession, but he didn't think his work-setting would change out of necessity due to Covid-19. 
But change it did.
Mr. Urbina, 59, has been working as an operating room aide since the coronavirus outbreak. He originally worked at the Environmental Services at Stamford Hospital but then his job role shifted. 
Mr. Urbina, father of GCDS sophomore Sofia, felt that he and the hospital were not prepared for a health event as big as Covid-19. As an operating room aide, he makes sure the surgery rooms are completely disinfected before and after surgery. This comes with risk, of course.
"I was never prepared for something as big as COVID-19, something so unfortunate," he said in an email interview.  "No one was prepared, including the hospital, for so many sick people."
He also monitors all of the machines that would be used during surgery. If a room is being occupied by a Covid-19 patient, Mr. Urbina uses the xenex machine, a UV room disinfection machine, that uses ultraviolet light to disinfect the room. 
"It is important because the maintenance of the operating room greatly affects the outcome of the patient and keeps them from getting an infection while in surgery."
He feels that there are many risks being the operating room aide, but he wears PPE (personal protection equipment) in order to stay protected.
Even though coronavirus is still spreading, the number of hospitalizations in Connecticut are declining as of late May. According to NBC Connecticut, coronavirus-related hospitalizations are dropping as total cases approach around 41,000. 
Mr. Urbina's is just one story.  People who are working in the medical field nationwide, including Jaime Urbina, have worked to help those with Covid-19 and other patients in need.  Not venturing out as much as possible is how workers in the medical field can be best supported, according to experts since the stay-at-home orders started in mid-March. 
—
Coco Motoyoshi is a rising junior who enjoys musical theater.