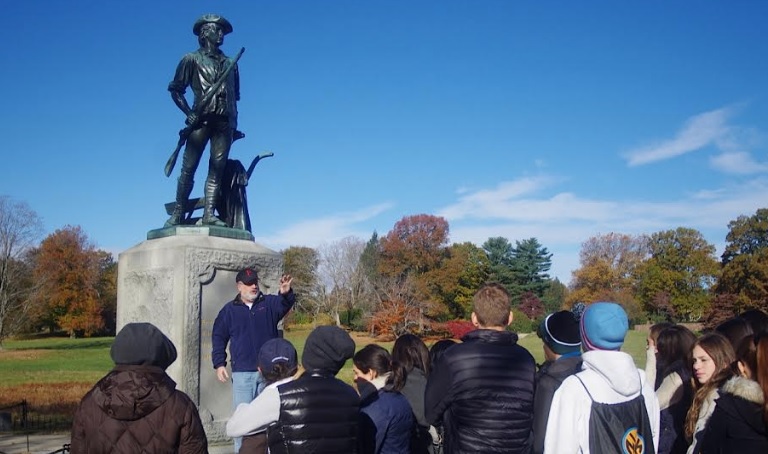 STANWICH ROAD/REMOTE – Dr. Jim Cullen can't know what the fall will look like for classes – but his enthusiasm for history is locked in!
Dr. Cullen, joining GCDS US as a 10th grade American history teacher this fall, has spent nineteen years as an instructor at the Ethical Culture Fieldston School in New York.  He will be joining the GCDS community, along with several other new faculty, at a unique moment.
"I'm really excited to be joining a great school at a pivotal moment in its history and being part of fashioning a quality experience for GCDS students," he said in an email interview.
Project-based learning is something that differentiates our school from many others. With almost twenty years of experience in the field of history, project-based learning is still a new technique for many. Many choose different learning approaches and have various styles and Dr. Cullen identifies his teaching method as Socratic: questions will be asked of students to give deeper thoughts to the questions that were posed.  This could give GCDS students a unique vehicle to explore different aspects of their learning and eventually sharing those in future Presentations of Learning (POL's). 
"But while I have some experience with project-based learning, this will really be the first time that I try to do it systematically. I'm looking forward to the challenge," he explained.
With the GCDS high school, new comes with the territory.  One building rose in 2019 and another will open in 2021.  New faculty like Dr. Cullen are keenly aware of this and see it as an advantage.
"Well, it was a sense of newness–in more ways than one! I was also really impressed by the teachers I met and thought about how much I would like to join the team. Some great kids, too!" 
With the possibility of not returning to school fully in the fall, many teachers including Dr. Cullen are prepared to give the students a well-rounded course however they need to.  
According to fieldstonnews.com, his students are sad to see him go.
"Mr. Cullen is one of the most engaging and informative teachers I have ever had the chance to work with," said Ari Rosenstein, a former student in a profile by Asher Zemmel, of the departing teacher. "Everyday he brings an amazing energy to the classroom that encourages his students to work their hardest."
Dr. Cullen has written many books since the early 1990's. Pop culture is something that influences his choice in writing. Dr. Cullen's first book, The Civil War in Pop Culture was based on his dissertation, and published by the Smithsonian Institution Press in 1995.  Many titles have followed.
Camille Jordan is a rising junior who enjoys dance and acting. She is excited to contribute to the new and upcoming Chronicle.