Hi! My name is Allegra Peardon and I was a sophomore at GCDS in 2019-20, its first year as a high school…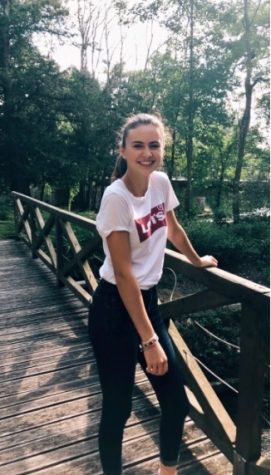 …this was sadly my first and last year at this amazing school because I am moving 3,590 miles to Paris, France. Being French-American and going to France every summer and Christmas to see family, the transition to permanently living there is harder than it looks. In this running log, I'll be talking about moving in the middle of high school, especially against the backdrop of the ongoing pandemic. COVID-19, juggling school work, friends, and riding will all be featured as I start a new sojourn….and we can see how I handle everything – together.

[most recent entry at the top]
August 31:
Wow, today's the last day of summer.
School starts tomorrow.
It's so weird saying I go to school in France. A lot has happened since I last wrote. For example I transferred schools a week before the first day and we didn't move to Versailles.  We bought a house and were about to get another dog!
Tomorrow is the start of a new school year in Loches, 50 minutes away from our vacation house which is now my permanent residence. It's a French educational school which means classes are all advanced, difficult, AND in French. Wish. Me. Luck.
Over 900 students in this city school all scattered across buildings and that's not even counting the boarding houses. This year is going to be very hard for me. This school is known to be difficult educationally and I have to make up a year of Spanish so by the time I graduate I will hopefully know 3 languages which is amazing.
I'm so excited to go tomorrow along with training with a new horse. Everything is crazy right now there is construction going on in the house and school starts tomorrow from 8 am to 5 pm. I know, it's a longgggg school day, then I have riding from 6-8 pm. The whole situation is frantic but I'm beyond ecstatic. New school, different country, different language. That's a lot!
I guess this is goodbye though, tomorrow I officially go from a Tiger to Wolf: our school mascot.  It feels like the end of an era really. The short time I was at GCDS was the best year of my life so far. I can't thank everyone enough for making it so special for me to learn and experience the school. It was amazing to be with such good people and be surrounded by my new friends and teachers.  GCDS has taught me so much and for that I am really a better person.
As Mr. Rohdie says, once a Tiger, always a Tiger. Thank you GCDS for the best year of my life – I will miss you so much.
Signing off,
Allegra Peardon (Class of 2022)
August 8:
The best thing about being in the middle of France is that it feels like your in a little bubble of happy and it's very peaceful.
The bad thing about it, you get bored. Very, very, easily.
The most important part of my day is waking up at 7:30 am (when going to sleep around 1) and going to the stables and riding my horses.
I'm also looking for a new jumper so I can compete with here in France. My current horse isn't fast enough to place in any of the classes so we thought it was a good time for another one.
I've been making a lot of friends here or, well, my mom has been forcing me to make lots of friends, but I'd rather just stay at the barn all day and be with my friends there.
I've started painting again; I stopped for a bit because there was just so much going on.  Oh, also, I am moving AGAIN in two weeks to Versailles.
This is where I will be living during the week and then I'll drive down to Azay le rideau for the weekends to ride. It's kind of like living in New York and driving to let's say the Hamptons- it's about the same time in the car.
I start at another new school this year in 25 days!   In a new country where I know absolutely no one at this school, it's really starting to make me a little nervous. I just want to stay in my bubble sometimes but I know this will be a good change, at least I hope. See you soon!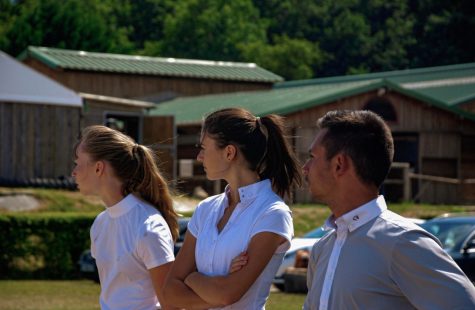 July 16:
Wow crazy day few days!! My first competition happened, and I am getting ready for my whole family reunion this Saturday.  I have a total of 16 people coming to stay with me in our place.  How do you say 'full house' in French?  All of the boxes from the move have arrived and are completely finished!
I have another competition next week which I'm very excited for.  The competition went amazing: I placed in my 2 first classes in the jumpers!
So summer is going pretty great with my friends and riding. I can't wait for school!…
These are two recent pictures!
July 1:
Last week I went to Le Mans National Horse Show.  Sadly I didn't get to show because I didn't get my papers done in time. The competition was amazing though, watching the jumpers is very very different from watching the hunters or equitation. The show is more fun as well, being with my new barn, trainers, and friends.  I spent most of the time laughing and smiling.
Today, our last container of items FINALLY arrived. The boat was supposed to come with the others but it ended up going to England first and then to France. We are all currently unpacking a big house full of boxes while my dad is in America working again. He doesn't come back until next Friday and he has been gone for about 2 weeks. Feels weird without him and I guess I have to get used to it.
I'm riding everyday still and going out with friends a lot. I miss Greenwich a lot because its so convenient and easy. Over here, I have to drive at least 20 min to see anyone I know!
June 25th: 
This week there has been a heat wave of a high of 37 degrees C. In Fahrenheit that is equivalent to 98.6 degrees of pure heat and some humidity.
So in English, that is death.
Having to ride in that heat and in the sun with flies surrounding you is torture.  Our rooms are super hot as well, and no I do not have AC becaus
e I live in a very very old house.
I have been trying this horse which we might lease for a year to do the jumper division. She is amazing and does the 1.45 Grand Prix but is coming down to do lower stuff. I took her out for a trail ride in the forest and in some fields today with my friends – let's just say she was a little fast! I have met a few girls here who are great. Everyone is super nice and welcoming. I'm going to a competition this weekend to watch my friends, I hope it goes well!!
Here are some pictures we took on the trail ride in the huge field!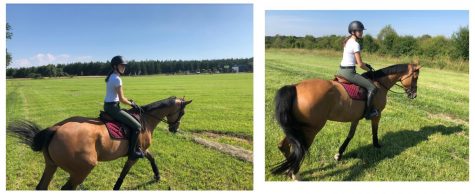 June 19th:
The best thing about living in the middle of France for the summer is feeling the disconnection from the rest of the world. The relaxation sets in and you finally start to enjoy your summer. Especially after 2 moves and another future one in August.
The sunsets around 10-11 pm every day so I stay up pretty late now. That is also because I talk to my American friends at that time. I miss everyone a lot but I am glad to be apart from Greenwich for a while. After living there for almost 17 years, you start to want some more vacations.
I have my first riding competition in France in two weeks. I have that much time to get used to a new horse, a much faster pace, a much bigger height and jumper.
Claudia, I could really use some help here! My cousins come visit during July and that's when the real fun starts, that's also when we get into the most amount of trouble too. I can't wait for everything to be settled in, it will be great!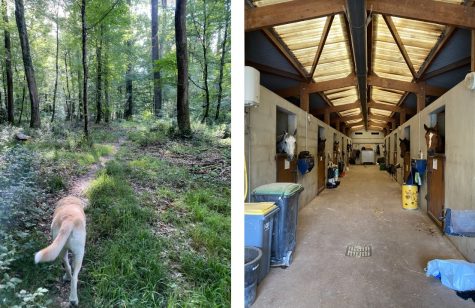 June 14th:
Today has been the first normal feeling day since we have moved in! We have almost finished unpacking from the movers we had this week with all of our stuff from America along with a ton of workers working on repairing the house. Oh, and did I mention the fact that we have a new infestation of bats in Octavia's room? Yes well, we do, and that included a lot of screaming and crying from her!! The horses have settled in nicely and so has the dog who went on a super long walk with me today to watch the beautiful sunset.
We have already made new friends here and can't wait for more to come to visit me soon!
Jumping ahead to Day 10: June 3rd:
Being here for 5 days already, a few norms have been put in place.
I have been riding the horses daily since they arrived at the stable.  I have a new trainer in the new facility. In addition, SIDELINES magazine (an equestrian magazine) is doing an article about my sister Octavia and me moving to France with the horses to train with two French brothers.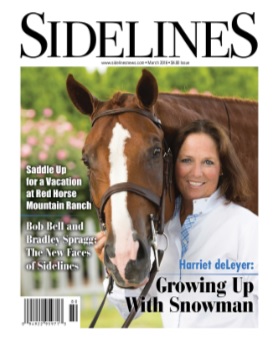 On the one hand, everything in the equestrian part of my life is perfect.  On the other hand, living in the summer house is a bit difficult. I discovered a few days ago that a roost of bats is living in my window siding and walls. Many bats have gotten into my room during the night, making me sprint out of there in the middle of the night to go sleep in a different room.
Maybe you can tell: I hate bats, especially when they are screaming and flying around your room at top speed.
Everything seems pretty good though, we started renting a house in Versailles instead of being in Paris and it looks like the right choice right now. I can't wait to unpack everything!! 
Here are some more images!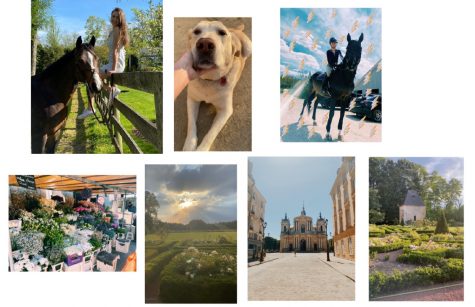 I hope you enjoyed reading about my little adventure. I'm going to miss GCDS very very much and hope to come visit very soon but for now, Au Revoir, for now!
-A.P. (Class of 2022)
May 27:
Exciting day today!! The horses (iris on the left, Austin on the right) are leaving today along with my dad and our dog labrador Sam on a plane. I can't wait to start riding in France and to finally move and get everything over with. Even though I am leaving tomorrow, I'm more focused on getting my giant list of "to do before you leave" done. This includes fun activities, and of course, mass amounts of homework. Later I have one last person to say goodbye to and then that's it! Right now I'm feeling pretty excited to start over in a new country and new school, here are some pics of the horses!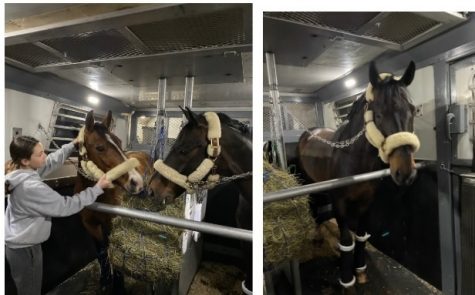 May 25:
Wow, today was an amazing and very sad day filled with smiles, hugs, and lots of tears. Saying goodbye to some of my closest friends knowing I won't see them again for months and our relationship won't be the same, made me hug each and every one of them extra hard. Sort of feels like a summer vacation, like I will come back in August but then I remind myself it's not like that at all. I did a Tiger talk a few weeks ago in front of the upper school about appreciation, today was a day of appreciation and thanks. Really made me happy to see them after weeks of being in quarantine. I don't know if by the time you are reading this that COVID-19 is still a deadly virus and you are still quarantining, but you can definitely remember that it was bad. Some of my close friends came to my house and did a drive-by to surprise me and to say goodbye, it was so nice to see them and know that they loved me. Tonight I am leaving my house/Greenwich to go up to another house to stay in until I leave. We are leaving because we don't have beds in our house anymore and can't stay there anymore. Driving out of the driveway and almost going into the bush yet again, all I could think about was that this was the last time living here but not the last time coming back.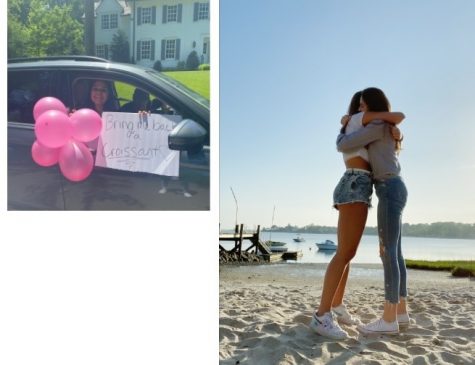 May 24:
The movers have officially cleaned out my house and transferred everything into three giant containers that are currently on their way to France. MY house looks very very empty and tomorrow I have to say goodbye to my friends. I have known some of them my whole life and others for only a few years. In addition, today was my last day at my barn whom I have been with for 6 years. Leaving everyone behind including a best friend, and my trainers really feels terrible. Feeling worried and sad that I have to leave but I know it will be great in France. Here are some pictures of my empty house and saying goodbye to my barn family!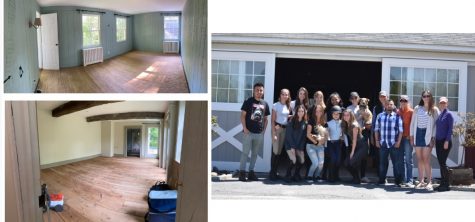 May 20:
Little background information first: 
I am French American and 16 years old. I have lived in Greenwich my whole life and attended Stanwich school since preschool. I ride horses competitively and will be bringing a couple of them to France with me. As of now, they have packed everything in my small house and shipped them on a boat to France. I am leaving May 28 on a flight to Paris. Leaving school early willl make it hard for me to do all my school work along with my POL and EOL projects. Lucky for me there is a 6 hour time difference in France so I won't have to start school till 2:30. As of now, we haven't bought an apartment yet but are going to be looking during the summer. We will be staying at our vacation house with my grandparents for the whole summer.