OPINION: "The Plastic on the Bus Says 'Do Not Talk'" – An Enlightening Trip to Japan During a Pandemic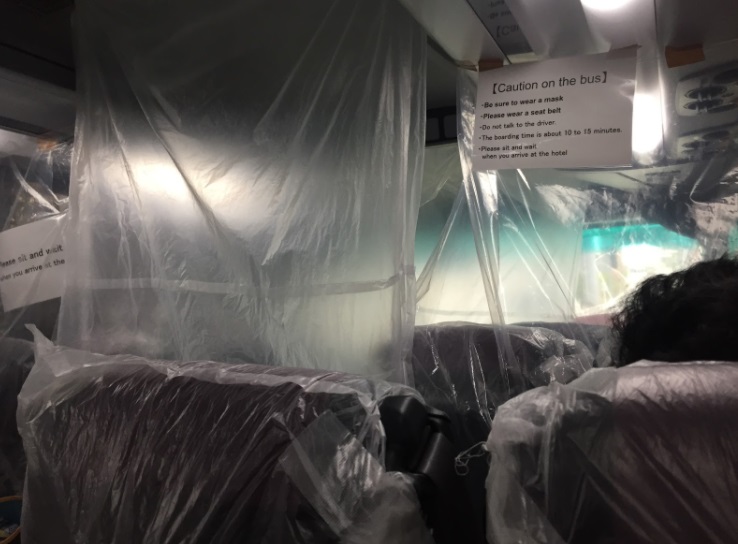 Coco Motoyoshi ('22), Reporter
August 21, 2020
NARITA, JAPAN/OPINION- This year's summer has been a different experience for everyone.  Riding a bus isn't what it was and even if you do something adventurous and unique – it is that much more unique during a global pandemic.
Covid-19 has affected all of our lives in different ways. Some of the biggest changes that occurred became obvious traveling overseas. 
With the virus spread everywhere, restricting immigration is not as effective as when it started – and economies depend on tourism and travel, so restricting movement when the virus is all over the place is less of a worry.
Restricting immigration can be a huge change especially for international students who are attempting to attend U.S. colleges in 2020. International students are dealing with the stress of when they will be able to get their visas. There are countries that currently have stricter immigration policies than the US. One of the countries is Japan. This summer, I went to Japan in June, and it was an unforgettable experience. Currently, only citizens with a Japanese passport can enter Japan. However, according to a Japanese government website, Japan will start letting in more foreigners in the near future. 
When my family landed in the airport in Japan in June we first had to go through the PCR Test nasal test.  This is the polymerase chain reaction test, and according to several medical websites, it actually detects the antigen itself, not just the the presence of the body's immune response, known as antibodies.  Luckily we all tested negative. 
Then, our family was taken onto a government bus – distinct from public transportation – to the Narita Hotel. Riding the bus was a crazy experience. The inside of the bus was covered with plastic sheets. There were even signs in the bus that said, "No Talking." This was all mind-blowing for a free society like Japan.  Japanese people who were coming into Japan had to self-quarantine for two weeks, including avoiding public transportation.  So we were travelers who were done traveling for a while. 
Our family stayed at the hotel for two weeks, made easier when you don't have a car anyway. The hotel was fine, but it would have been better to visit grandparents instead – except of course, for fear of the virus.  So Narita Hotel became home.
Travel during a pandemic is a unique kind of experience and it means one change for sure:  none of us will take anything for granted- health, family, travel, fun, leisure, school- after this.  
Not even buses without plastic sheets.  
—
Coco Motoyoshi is a rising junior who enjoys musical theater.